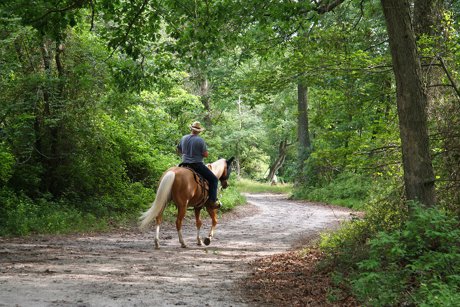 Saddle up and settle down for a beautiful day on Polk County property. At Blanche Manor trips on horseback create amazing experiences. Trail rides meander through awe inspiring wilderness with views not only of Tennessee but North Carolina and Georgia as well.
The adventure begins with expert staff carefully matching friendly horses to their riders. Blanche Manor welcomes riders of all ages and skill abilities. Families with children as young as six can hop in the saddle. Groups take to the trails where they leisurely or briskly walk or even trot about. The pace is set by the rider with the least amount of experience but everyone ends up having a great time. Journeys wind through woods, clearings and streams. Local wildlife are readily spotted especially during morning and early evening hours. Basic rides are either an hour or two. Private rides are great for expert equestrians with heartier terrain on the Polk County property conquered.
An Adventure of a Lifetime Awaits on Copperhill Property
Romance is in the air on this stunning land. Sunset trips are made for couples in love. A vivid sky colored in pinks and blues casts a glow along winding roads. There's nothing quite like it. The mood is set during proposal package rides. With a 100% success rate there is nothing to be nervous about. Horses carry lovebirds along a private trail to a secluded stream with champagne waiting on the banks. Who could say no to that?
True cowboys and cowgirls at heart might find that one or two hours on horseback is just not enough. The City Slicker and Dude for a Day specials fit the bill. Those signed up for the City Slicker package learn either the art of barrel racing, pole bending or obstacle course riding. Once mastering their new found skill participants challenge each other in a mini rodeo with the winner taking all. Dude for a day kicks it up a notch adding in a delicious breakfast at the Cider House Cafe and an added trail ride. Extremists who don't want the day to end can slumber the night away in the bunkhouse.
Blanche Manor welcomes riders year round to their Copperhill property so come multiple times a year and enjoy the beauty of the seasons. Reservations can be made at 706.455.7435.